Through the power of self-discovery, we inspire and empower kids to find their light and live life to the fullest.
Created by Peter J. Liang
Harvard University Advanced Leadership Initiative Fellow
I AM A LEADER is the #1 best-selling leadership journal for kids to promote authentic leadership skills development.
Perfect for elementary school classrooms (grade 3 - 6) and after school programs. Help students grow SEL competencies including self-awareness, gratitude, compassion, respect, kindness, collaboration, grit and growth mindset.
Download Brochure
Trusted by Schools and Non-Profit Youth Organizations
What Teachers & Parents Are Saying
"My 4th graders have been using your leadership journals this year.  I have found that my kids are way more insightful than I imagined. The journals have allowed us to have some meaningful conversation in the classroom and really dig deep into the definition of gratitude.

- Tiffany C. 4th Grade Teacher
My 8 year old daughter loves to write in her Leadership Journal every night before bed. It has helped her with her spelling, her confidence and it's a great way for us to process the day together, as she loves to read me all of her answers. Highly recommend!

Katie B. Parent
Love the layout of this journal. The introduction was brief and easy to understand. We've been in and out of school periodically due to the pandemic, but when we are together we have made it part of classroom routine. It was needed more now than ever!

Stephanie A. 5th Grade Teacher
Such a great escape...It is such a weird time for kids and this book allows my 10 year old to express his feelings in a way that does not embarrass him, because parents are embarrassing. It's also a great way to continue his writing skills while not in school.

Angela D
This has helped my kids tap into important skills like gratitude and I can't wait to see what they learn further. I also love that it taps into deep breathing and really listening to your body and emotions. These are great skills to be teaching our kiddos. THANK YOU

Mac O.
In this time when we are all at home it is a lovely journal with good prompts for kids to follow. Bought this as a gift for my friend's kids as I believe leadership should be taught early in life. I like the curriculum so much that I just bought a few more to give out. Definitely recommend.

Maya A.
Wonderful tool to promote inner growth! My tween daughter enjoyed the journal. She appreciated the specific prompts on each page which made the goals very tangible. Its a wonderful tool for reflection and growth really at any age - even I felt it useful at my age!

Chole S.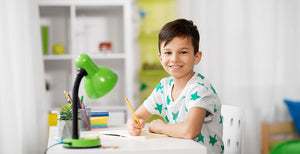 #1 Leadership-Building
Journal for Kids
Wisdom sharing, confidence building, impact focused.